Last updated 01 February 2017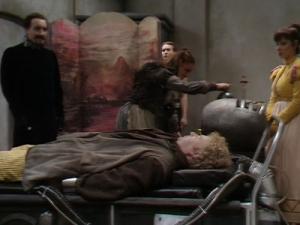 Broadcast: Saturday 28th June 2003
11:25pm-11:50pm EDT
(03:25 GMT)
«
»
WCET
Featuring: Colin Baker, Nicola Bryant, Anthony Ainley, Terence Alexander, Kate O'Mara
People cannot sleep in the town of Killingworth and the Doctor realises it is the work of a renegade Time Lord, the Rani, who has teamed up with the Master to cause chaos
Synopsis Source: Doctor Who Guide
Broadcast Source: TWiDW
Report from the This Week in Doctor Who Archive:
Wednesday 2nd July 2003:
WCET Cincinnati, OH
http://www.wcet.org
analog 48
digital 34-2
Cincinnati DirecTV Local 48,909
Cincinnati Dish Local 48,8356
Sat 11PM EDT The Mark of the Rani 4 pt version, pts 1+2
Batman
and
Superman
.
Buffy
and
Angel
.
Rosenkranz
and
Guildenstern
.
Dangermouse
and
Count Duckula
. History is filled with famous powerful figures who teamed up to do something momentous. Now the Master wants to enter into a partnership with the Rani, another renegade Time Lord, er, Lady. But she has her own schemes in mind. Can the 6th Doctor and Peri find out which piece of evil is part of which plot before the Technological Revolution is destroyed?