Last updated 02 January 2017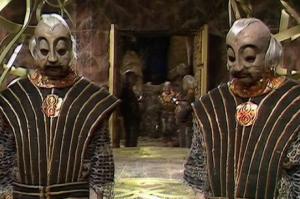 Broadcast: Saturday 23rd April 2016
10:00pm-11:31pm CDT
(03:00 GMT)
<
>
«
»
WSRE
Featuring: Tom Baker, Ian Marter, Elisabeth Sladen, David Collings, Ronald Leigh-Hunt, Jeremy Wilkin
The Doctor, Sarah and Harry return to Nerva, but at an earlier point in time. The crew are dying and blame a space plague, but the Doctor suspects a survivor may be responsible.
Synopsis Source: Doctor Who Guide
---
Broadcast notes:
The episodes have been distributed in production order and not broadcast order, hence Robot, The Sontaran Experiment, The Ark In Space, Revenge of the Cybermen, and Genesis of the Daleks!
Broadcast Source: WSRE