Last updated 02 January 2017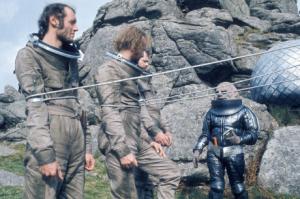 Broadcast: Saturday 9th April 2016
10:00pm-11:00pm CDT
(03:00 GMT)
<
>
«
»
WSRE
Featuring: Tom Baker, Ian Marter, Elisabeth Sladen, Kevin Lindsay
The Doctor, Harry and Sarah find Earth is a desolate wilderness. They meet a group of stranded human colonists who are being hunted by a robot and experimented upon by its master.
Synopsis Source: Doctor Who Guide
---
Broadcast notes:
The episodes have been distributed in production order and not broadcast order, hence Robot, The Sontaran Experiment, The Ark In Space, Revenge of the Cybermen, and Genesis of the Daleks!
Broadcast Source: WSRE