Last updated 02 January 2017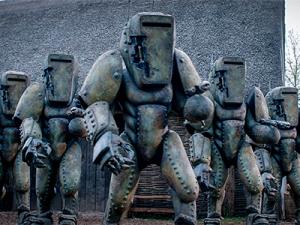 Visit Broadcast Link
Broadcast: Saturday 17th October 2015
8:20pm-9:05pm BST
(19:20 GMT)
<
>
«
»

<
>
«
»
(actually broadcast at 20:23:05)
BBC One
Featuring: Peter Capaldi, Jenna Coleman, David Schofield, Maisie Williams
After they are captured by Vikings, the Doctor and Clara find themselves fighting some space warriors from the future. But why is the Time Lord so preoccupied with one Viking girl?
Synopsis Source: Radio Times
Broadcast Source: BBC
Ratings Information:
Initial figures:
4.852m viewers (overnight), 23.2% audience share, 2nd place day, 27th place week
Consolidated figures:
6.560m viewers (+7 days), 28.1% audience share, 18th place - BARB Week Top 30 Chart, AI 82
Additional figures:
7.070m viewers (+28 days)
Doctor Who was the second highest rated show of the day, behind Strictly Come Dancing which had an average of 9.66 million viewers. Casualty was third with 4.61 million watching.Rugby scored highest on ITV, but with none of the home countries playing, just 4.04 million watched New Zealand defeat France.The rating, the highest figure for the series this year, was slightly boosted by the late start to the episode, meaning the calculation includes the remnants of the Strictly audience. However detailed figures show the audience rising during the show once the Strictly audience had departed to average around 4.63 million.
BARB Reports
BARB Live: 3.846m; Timeshift+7: 2.71m (total 6.56m); Timeshift+28: 3.22m (total 7.07m)
[first week breakdown: 4.852m(Sat), 5.754m(Sun), 6.100m(Mon)]
BARB Player Report (beta):
w/e 18 Oct: Weekly - 182,378[9th] (iOS 52,562[19th], web 129,815[3rd]); 4 Weeks - same figures[unlisted] (iOS unlisted, web[29th])
w/e 25 Oct: Weekly - 122,660[16th] (iOS 30,338[41st], web 92.221[11th]); 4 Weeks - 304,951[19th] (iOS unlisted, web 222,050[12th])
w/e 1 Nov: Weekly - unlisted (iOS unlisted, web 85,218[10th]; 4 Weeks - 243,194[32nd] (iOS 85,960[45th], web 242,807[8th])
w/e 8 Nov: 4 Weeks - 340,848[5th] (iOS 87,084[37th], web 253,764[6th])
w/e 15 Nov: 4 Weeks - 160,687[46th] (iOS unlisted, web 125,532[28th])
Preview Doctor Who - The Girl Who Died Trailer
w/e 18 Oct: Weekly - web accesses 40,416[32nd]
BBC Reports
The
BBC's iPlayer performance figures
reported that the episode was requested 1.147m times to the end of the month, making it the thirteenth most requested programme in October - it was beaten by episodes of
Doctor Foster
,
The Great British Bakeoff, Strictly Come Dancing
,
From Darkness
and
The Apprentice
(the figure does not include requests via Virgin Media or Sky).