Last updated 02 January 2017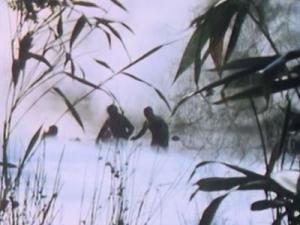 Broadcast: Thursday 19th July 2001
11:30pm-12:00am AEST
(13:30 GMT)
<
>
«
»
BBC UKTV
(adverts during broadcast)
Featuring: Tom Baker, John Leeson, Lalla Ward, Matthew Waterhouse, George Baker, James Bree
The TARDIS enters the universe of E-Space and lands on the planet Alzarius where Mistfall is occurring and creatures are stirring in the swamp.
Synopsis Source: Doctor Who Guide
Broadcast Source: TWIDW
Report from the This Week in Doctor Who Archive:
Friday 13th July 2001:
UKTV Australia
http://www.varos.com/drwho/uktv/
http://www.uktv.com.au/
Sun 7AM, Late Sun 1AM AEST The Power of Kroll all 4 eps
An enormous octopus worshiped by swamp people threatens a gas refinery that humans run. Is the octopus just being a spoilsport, or is something else going on. Something confusing.
Mon-Wed 11:30PM AEST Meglos eps 2 - 4 of 4
Meglos frames the Doctor for a daring crime. Now the Doctor could pay the ultimate price - 7 pounds and sixpence! Or maybe he'll just be killed instead.
Thu-Fri 11:30PM AEST Full Circle eps 1 - 2 of 4
Trapped in a pocket universe, the Doctor and Romana come across a world on the verge of Mistfall, when the monsters come out to kill. But are they monsters?