Last updated 02 January 2017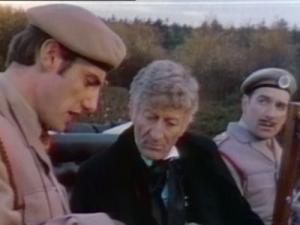 Broadcast: Sunday 22nd July 2001
11:30pm-11:55pm PDT
(06:30 GMT)
<
>
«
»
KQED Plus
Featuring: Jon Pertwee, Nicholas Courtney, Caroline John, Fulton Mackay, Peter Miles
The creature from the caves, wounded and dangerous, is on the loose on Wenley Moor. Dr Quinn attempts to recover it and is unwilling to listen to the Doctor's warnings.
Synopsis Source: Doctor Who Guide
Broadcast Source: TWiDW
Report from the This Week in Doctor Who Archive:
Friday 20th July 2001:
KTEH 54 San Jose, CA
http://www.kteh.org/
Sun 11:30PM PDT Doctor Who And The Silurians eps 3+4 of 7
Color-restored version.
Doctor Quinn (not the one played by Jane Seymour) has discovered a hibernating race of intelligent reptiles, and is helping to awaken them. Of course, he won't tell anybody, and there's a fair chance these reptiles might decide they want the planet back from humanity. No one said Doctor Quinn was practical.