Last updated 02 January 2017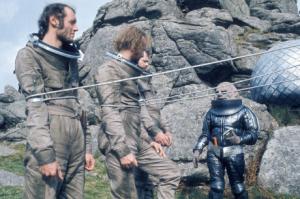 Broadcast: Thursday 7th August 1986
11:15pm PDT
(06:15 GMT)
«
»
KQED Plus
Featuring: Tom Baker, Ian Marter, Elisabeth Sladen, Kevin Lindsay
The Doctor, Harry and Sarah find Earth is a desolate wilderness. They meet a group of stranded human colonists who are being hunted by a robot and experimented upon by its master.
Synopsis Source: Doctor Who Guide
BroaDWcast listed this story at the same time as Genesis of the Daleks (11:15pm); it is assumed they followed each other.
Broadcast Source: BroaDWcast