Last updated 02 January 2017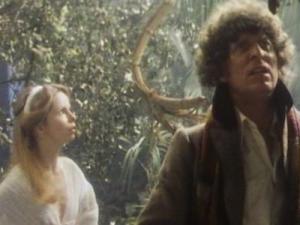 Broadcast: Saturday 14th September 1985
11:15pm PDT
(06:15 GMT)
<
>
«
»
KQED Plus
Featuring: Tom Baker, David Brierley, Lalla Ward, Myra Frances, Eileen Way
The Doctor and Romana follow a distress signal to the jungle world of Chloris. The planet is ruled by the ruthless Lady Adrasta who takes the Doctor prisoner.
Synopsis Source: Doctor Who Guide
---
Broadcast notes:
BroaDWcast has this story listed at the same time as Nightmare of Eden (11:15pm); it is assumed the two followed each other.
Broadcast Source: BroaDWcast