Last updated 02 January 2017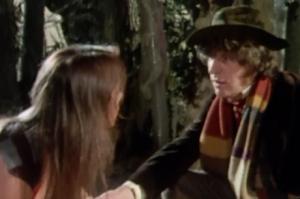 Broadcast: Saturday 11th May 1985
11:15pm PDT
(06:15 GMT)
<
>
«
»
KQED Plus
Featuring: Tom Baker, Louise Jameson, Brendan Price
The Doctor arrives on an alien world and is taken captive by the savage Sevateem tribe. Accused of being 'the evil one', the Doctor begins to suspect that he has been here before.
Synopsis Source: Doctor Who Guide
BroaDWcast reported that both this and Horror of Fang Rock were on at the same time (11:15pm); it has been assumed that they followed each other.
Broadcast Source: BroaDWcast