Last updated 02 January 2017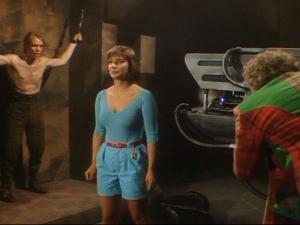 Broadcast: Saturday 20th April 2002
11:35pm-12:00am CDT
(04:35 GMT)
<
>
«
»
Iowa Public TV
Featuring: Colin Baker, Nicola Bryant, Forbes Collins, Jason Connery, Martin Jarvis, Nabil Shaban
Needing Zeiton 7 ore urgently for the TARDIS, the Doctor takes Peri to Varos. They quickly become part of the sadistic programming that entertains the populace.
Synopsis Source: Doctor Who Guide
Broadcast Source: TWiDW
Report from the This Week in Doctor Who Archive:
Friday 19th April 2002:
IPTV Iowa 11,12,21,24,27,32,32,36
http://www.sffn.com/
http://www.iptv.org/
digital 50
Sat 11:35PM CDT Vengeance on Varos 4 pt version, pts 1+2
The 6th Doctor and Peri have to land on the planet Varoa to seek Zeiton-7 ore for the TARDIS. Alas, they land during the period when Varos is a brutal prison planet where executions and torture are the big prime time TV programming. At the initial time of broadcast the idea of watching "reality" programming seemed abhorrent. These days - well let's just say that Big Brother has been renewed for a 3rd season in the US, and I'll bet the folks in the UK renewed it there too.