Last updated 02 January 2017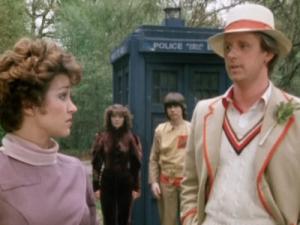 Broadcast: Sunday 31st March 2002
12:00am-12:30am EST
(05:00 GMT)
<
>
«
»
WQED
Featuring: Peter Davison, Janet Fielding, Sarah Sutton, Matthew Waterhouse, Michael Robbins
The TARDIS lands in 17th century England which is being stalked by a robotic death-like figure. The locals seem to be under a strange mesmeric spell.
Synopsis Source: Doctor Who Guide
Broadcast Source: TWIDW
Report from the This Week in Doctor Who Archive:
Friday 29th March 2002:
WQED/WQEX 13,16 Pittsburgh, PA
http://www.wqed.org/
DirecTV 13/947 Dish 8136
Late Sat Mid EST The Visitation pt 1 of 4
Heathrow Airport - 1664. Admittedly, it doesn't look much like an airport at this point. Hardly any planes around. Woods and shrubbery instead of runways. Peasants wandering all over the place. Illegal Aliens (from outer space) attempting terrorism to take over the Earth. But the 5th Doctor never promised to get the year right.