Last updated 02 January 2017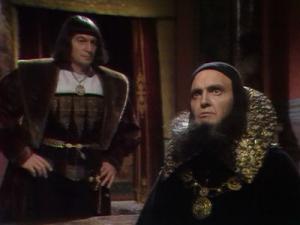 Broadcast: Tuesday 12th June 2001
5:00am-6:00am EDT
(09:00 GMT)
<
>
«
»
BBC America
(adverts during broadcast)
Featuring: Tom Baker, Elisabeth Sladen, Gareth Armstrong, Tim Pigott-Smith
Tempted by the promises of ultimate power offered by Mandragora, Hieronymous plots to eliminate the threat posed by the Doctor and uses an unwitting Sarah as his weapon.
Synopsis Source: Doctor Who Guide
Broadcast Source: TWIDW
Report from the This Week in Doctor Who Archive:
Friday 8th June 2001:
BBC America
http://www.bbcamerica.com/
Mon-Thu 8AM EDT (5AM PDT) / Tue-Fri 5AM EDT (2AM PDT) - 2 episodes in movie format daily
Mon/Tue The Masque of Mandragora movie, pt 2 of 2
There is nothing scarier for an evil person than to meet someone who is more evil. The shock and terror that ensues can be lethal. Count Frederico is about to discover someone on his staff is more evil than he is. Can he take the heat?
Tue-Wed/Wed-Thu The Hand Of Fear movie, pts 1 - 2 of 2
A fossilized hand buried in a quarry holds the keys to the secret behind the death of a crystalline civilization millions of years ago. Did this hand belong to the villain involved in Kastria's destruction, or the victim?
Thu/Fri The Deadly Assassin movie, pt 1 of 2
The Doctor is lured into a plot to assassinate the President of the Time Lords, via his efforts to prevent it. Probably the best example of a "serious"
Tom Baker
story.