Last updated 02 January 2017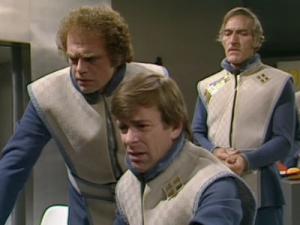 Broadcast: Saturday 21st July 2001
11:25pm-11:50pm EDT
(03:25 GMT)
<
>
«
»
WCET
Featuring: Tom Baker, John Leeson, Mary Tamm, Philip Madoc, Glyn Owen
Tracing the fifth segment of the Key to Time to the third moon of Delta Magna, the Doctor and Romana are soon caught up in the conflict between humans and the Swampies.
Synopsis Source: Doctor Who Guide
Broadcast Source: TWiDW
Report from the This Week in Doctor Who Archive:
Friday 20th July 2001:
WCET 48 Cincinnati, OH
http://www.wcet.org/
Sat 11PM EDT The Androids of Tara ep 4 of 4
A swordfight between the 4th Doctor and Count Grendel is one of the highlights of this episode, where the fate of the government of Tara is decided. Mary Tamm guest stars as Princess Strella, while still appearing as Romana.
Sat 11:25PM EDT The Power of Kroll ep 1 of 4
Delta Magma's third moon is a swampy planet (so no K9). But John Leeson (K9's voice) still gets into the story - he plays Dugeen, one of the humans working at the refinery.