Last updated 02 January 2017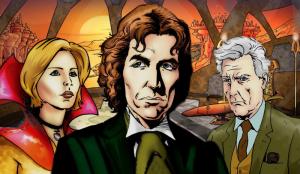 Broadcast: Friday 16th May 2003
~12:00pm-12:25pm BST
(~11:00 GMT)
<
>
«
»

<
>
«
»
BBC Online
Featuring: Paul McGann, John Leeson, Lalla Ward, Sean Biggerstaff, James Fox, Hannah Gordon, Susannah Harker, Melvyn Hayes, Andrew Sachs
Broadcast Source: BBC
Report from the This Week in Doctor Who Archive:
Wednesday 14th May 2003:
BBC
http://www.bbc.co.uk/cult/doctorwho/
Shada
- new 6 episode version of
Douglas Adams
' TV story left unfinished in 1979. Now an audio story with illustrations. Stars
Paul McGann
as the Doctor,
Lalla Ward
as Romana, and
John Leeson
as K9.
Fri 16 May - Episode 3 premieres.
Episodes will premiere on Fridays. Listen to the high quality audio if your internet connection is fast enough to handle it - it sounds much better. The medium quality audio sounds fine, and if you have a dial up connection (like most people) the medium quality audio is likely the best you can get to work, but if you can listen on a computer with a high quality connection you will have a much better time.