Last updated 02 January 2017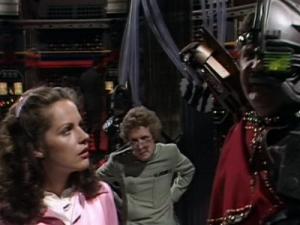 Broadcast: Saturday 10th February 2001
10:00pm-10:25pm CST
(04:00 GMT)
«
»
Lakeshore Public Television
Featuring: Tom Baker, John Leeson, Mary Tamm, Bruce Purchase, Andrew Robertson
Still in search of the missing planet, Calufrax, the Doctor and Romana encounter the telepathic Mentiads and Zanak's ruler, the half man, half robot Captain.
Synopsis Source: Doctor Who Guide
The episode is estimated as schedules were confused.
Broadcast Source: TWiDW
Report from the This Week in Doctor Who Archive:
Friday 9th February 2001:
WYIN 56 Gary, IN
(Chicago, IL)
http://www.wyin.org/
Sat 11PM CST "To Be A Surprise, Not Merely To the Viewers, But Probably To Whoever Puts The Tape in the Machine As Well" ep ? of 4 or 6
Late start due to College Basketball. Most likely episodes -
The Pirate Planet
episode 2,
Image of the Fendahl
episode 1, or
The Invasion of Time
episode 1. Mind you, with 172 episodes of Tom Baker in syndication, there's no way to be sure they won't pick an episode from yet another different story.