Last updated 02 January 2017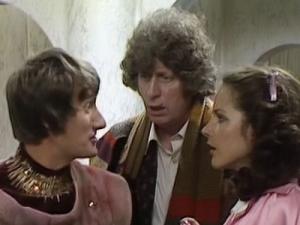 Broadcast: Saturday 3rd February 2001
10:00pm-10:25pm CST
(04:00 GMT)
<
>
«
»
Lakeshore Public Television
Featuring: Tom Baker, John Leeson, Mary Tamm, Bruce Purchase, Andrew Robertson
The Doctor, Romana and K9 face new dangers searching for the second segment to the Key to Time. What has happened to the planet it is hidden on?
Instead of landing on Calufrax as originally intended, they arrive on a different planet and encounter the Mentiads, and the strange Captain.
Synopsis Source: Doctor Who Guide
Broadcast Source: TWiDW
Report from the This Week in Doctor Who Archive:
Friday 2nd February 2001:
WYIN 56 Gary, IN
(Chicago, IL)
http://www.wyin.org/
Sat 10PM CST Image of the Fendahl ep 1 of 4
Bertha's Log, Supplemental: "The grass is still a tad on the dry side. We need some rain to make it more palatable. Also, the humans may have begun to realize that we can speak to each other. A tall guy with curly hair asked us something about a 'time scanner'. A nut, but he knew we could understand him. And that woman with him, with the disturbingly sharp knife. Oh dear."
» reported as actually The Pirate Planet: Part One