Last updated 02 January 2017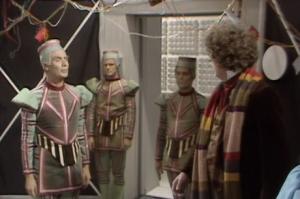 Broadcast: Wednesday 10th January 2001
8:00am-9:00am EST
(13:00 GMT)
<
>
«
»
BBC America
(adverts during broadcast)
Featuring: Tom Baker, Louise Jameson, Brendan Price
Penetrating the barrier with Leela, the Doctor enters the spaceship which is controlled by the Tesh. There he discovers the truth about Xoanon and realises that he is to blame.
Synopsis Source: Doctor Who Guide
Broadcast Source: TWIDW
Report from the This Week in Doctor Who Archive:
Friday 5th January 2001:
BBC America
http://www.bbcamerica.com/
Mon-Thu 8AM EST (5AM PST); reruns next day 5AM EST (2AM PST) - 2 episodes per day
Mon/Tue The Seeds of Doom eps 5+6 of 6
Thanks to the efforts of the twisted Harrison Chase, the Krynoid is alive, well, and threatening to take mental control of all the plants on Earth. This is a bad day for Vegetarians.
Tue-Wed/Wed-Thu The Face of Evil eps 1 - 4 of 4
The 4th Doctor discovers a world where various aspects of him are worshiped as a god while other parts are feared as a demon. Seems he did something very stupid in the past.
Thu/Fri The Sontaran Experiment both eps
See
UKTV Australia
for story details.