Last updated 02 January 2017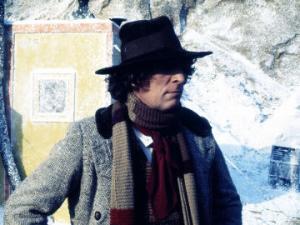 Broadcast: Thursday 4th January 2001
5:00am-6:00am EST
(10:00 GMT)
<
>
«
»
BBC America
(adverts during broadcast)
Featuring: Tom Baker, Elisabeth Sladen, Tony Beckley, John Challis
Learning of an alien seed pod at the Antarctic, the Doctor and Sarah investigate. But they are too late. A man is already turning into a Krynoid.
Synopsis Source: Doctor Who Guide
Broadcast Source: TWIDW
Report from the This Week in Doctor Who Archive:
Friday 29th December 2000:
BBC America
http://www.bbcamerica.com/
Mon-Thu 8AM EST (5AM PST); reruns following weekday 5AM EST (2AM PST) - 2 episodes daily
Mon-Tue/Tue-Wed The Deadly Assassin eps 1 - 4 of 4
A skeletal figure with a grudge against the Doctor and Gallifrey lures them both into a deadly game, distracting attention from efforts to cheat death and a hostile takeover of the universe.
Wed-Thu/Thu-Fri The Face of Evil eps 1 - 4 of 4
The Doctor discovers that the menace threatening the existence of the tribe of the Tesh has his voice and his face. His future - or his past?
» this was The Seeds of Doom 1-4