Last updated 02 January 2017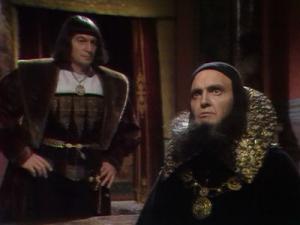 Broadcast: Tuesday 26th December 2000
8:00am-9:00am EST
(13:00 GMT)
<
>
«
»
BBC America
(adverts during broadcast)
Featuring: Tom Baker, Elisabeth Sladen, Gareth Armstrong, Tim Pigott-Smith
Tempted by the promises of ultimate power offered by Mandragora, Hieronymous plots to eliminate the threat posed by the Doctor and uses an unwitting Sarah as his weapon.
Synopsis Source: Doctor Who Guide
---
Broadcast notes:
Episodes 1+2 were pre-empted due to it being Christmas Day.
Broadcast Source: TWIDW
Report from the This Week in Doctor Who Archive:
Friday 22nd December 2000:
BBC America
http://www.bbcamerica.com/
Tue-Thu 8AM EST (5AM PST); reruns following weekday 5AM EST (2AM PST) - 2 episodes per day
Tue/Wed The Masque of Mandragora eps 3+4 of 4
Episodes 1+2 are pre-empted by Christmas programming, and BBC America will not air those 2 episodes in this rotation. Mandragora prepares to swallow the Moon, and Hieronymous makes a shocking revelation to Count Giuliano.
Wed-Thu/Thu-Fri The Hand Of Fear eps 1 - 4 of 4
A fossilized hand leads the Doctor into the mystery behind the destruction of a silicon-based society millions of years ago.