Last updated 02 January 2017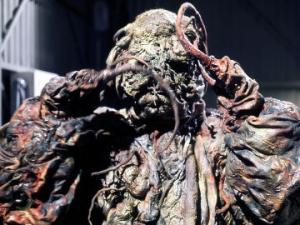 Broadcast: Saturday 18th November 2000
11:00pm MST
(06:00 GMT)
<
>
«
»
KUED
Featuring: Tom Baker, Elisabeth Sladen, Tony Beckley, John Challis
The Doctor, Sarah and Scorby are hunted down by the mad Harrison Chase. Outside the Krynoid prepares to germinate, sending its deadly seed pods out across the world.
Synopsis Source: Doctor Who Guide
Broadcast Source: TWiDW
Report from the This Week in Doctor Who Archive:
Friday 17th November 2000:
KUED 7 Salt Lake City, UT
http://www.kued.org/
Sat 11PM, Late Sat 12:30AM MST The Seeds of Doom ep 6 of 6
In the episode that was supposed to see the end of U*N*I*T, Major Beresford is preparing to launch a missile strike against the Krynoid. All well and good. Unfortunately, the Krynoid may already be ready to give birth to offspring by then, and the Doctor is trapped by it.