Last updated 02 January 2017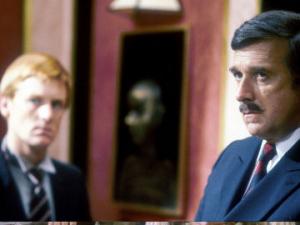 Broadcast: Saturday 17th February 2001
11:00pm-11:25pm EST
(04:00 GMT)
<
>
«
»
MiND
Featuring: Peter Davison, Nicholas Courtney, Janet Fielding, Mark Strickson, Sarah Sutton, Valentine Dyall
Caught in a warp ellipse, the TARDIS is drawn to a huge spacecraft orbiting Earth whereupon the Doctor is separated in space and time from Nyssa and Tegan.
Synopsis Source: Doctor Who Guide
Broadcast Source: TWiDW
Report from the This Week in Doctor Who Archive:
Friday 16th February 2001:
WYBE 35 Philadelphia, PA
(USA) http://www.wybe.org/
Sat 11PM EST Mawdryn Undead eps 1+2 of 4
WYBE
finally
gets to the beginning of this story arc. Alas, I've already described these episodes
twice
. What else is there to say? Tegan refers to
Snakedance
, the previous story. These episodes feature the first appearance by Brigadier Lethbridge Stewart since
Terror of the Zygons
? Hmm. And we see that the Brig's involvement with the Doctor has rubbed off, at least in unusual tastes in cars.