Last updated 02 January 2017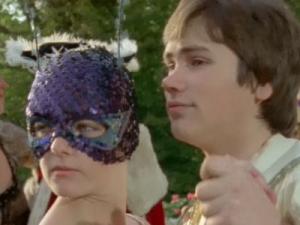 Broadcast: Saturday 10th February 2001
11:00pm-11:25pm EST
(04:00 GMT)
<
>
«
»
MiND
Featuring: Peter Davison, Janet Fielding, Sarah Sutton, Matthew Waterhouse, Michael Cochrane, Gareth Milner, Barbara Murray, Sarah Sutton, Moray Watson
A murder is committed in Cranleigh Hall. The Cranleighs ask the Doctor to play cricket and then join them for a masked ball, enabling the killer to hide in plain sight.
Synopsis Source: Doctor Who Guide
---
Broadcast notes:
This was shown instead of the scheduled Mawdryn Undead: Part One
Broadcast Source: TWiDW
Report from the This Week in Doctor Who Archive:
Friday 9th February 2001:
WYBE 35 Philadelphia, PA
http://www.wybe.org/
Sat 11PM EST Mawdryn Undead eps 1+2 of 4
Postponed from
an earlier date
. The Black Guardian decides to get revenge on the Doctor by recruiting a dangerous teenager to eliminate him. Thankfully, this allegedly all-powerful guardian does not realize that retired Brigadier Lethbridge-Stewart, an old friend of the Doctor's, teaches at the same school the teenager attends.
» this was reported as Black Orchid instead!