Last updated 02 January 2017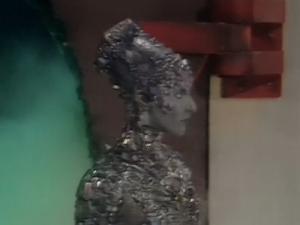 Broadcast: Thursday 2nd November 2000
5:00am-6:00am EST
(10:00 GMT)
<
>
«
»
BBC America
(adverts during broadcast)
Featuring: Tom Baker, Elisabeth Sladen, Glyn Houston, Judith Paris
The hand has used the nuclear energy to regenerate itself into the female form of the alien Eldrad, who demands that the Doctor return her to the planet Kastria.
Synopsis Source: Doctor Who Guide
Broadcast Source: TWIDW
Report from the This Week in Doctor Who Archive:
Friday 27th October 2000:
BBC America
http://www.bbcamerica.com/
Mon-Thu 8AM EST (5AM PST), reruns following weekday (5AM EST, 2AM PST)
Mon/Tue The Masque of Mandragora eps 3+4 of 4
Mandragora swallows the moon. Again. That's the problem when a station only has the rights to 16 stories, and cycles through them at a rapid rate. Everything happens again, and again, and again.
Tue-Wed/Wed-Thu The Hand Of Fear eps 1 - 4 of 4
See
KBTC
for details.
Thu/Fri The Deadly Assassin eps 1+2 of 4
The Doctor races home to Gallifrey to try to prevent the assassination of the President of the Time Lords. Just as a vengeful old friend wants him to do.