Last updated 02 January 2017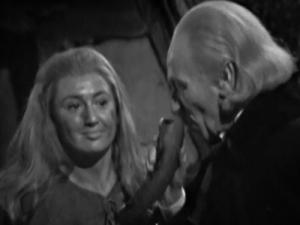 Broadcast: Sunday 8th April 2001
11:00pm PDT
(06:00 GMT)
<
>
«
»
KQED Plus
Featuring: William Hartnell, Maureen O'Brien, Peter Purves, Peter Butterworth, Alethea Charlton
The TARDIS lands on the English coast in 1066, but the travellers are puzzled to find modern day artefacts. A monk observes the arrival of the TARDIS, but seems unsurprised.
Synopsis Source: Doctor Who Guide
Broadcast Source: TWiDW
Report from the This Week in Doctor Who Archive:
Friday 6th April 2001:
KTEH 54 San Jose, CA
http://www.kteh.org/
Sun 11PM PDT The Time Meddler movie (The Watcher, The Meddling Monk, A Battle Of Wits, Checkmate)
Do not adjust your sets - this story is in desperate need of cleaned up prints. As the Doctor and Vicki try to convince Steven that they have traveled through time, a Monk with wristwatches, a record player, and a toaster is making himself at home in the 11th Century.