Last updated 02 January 2017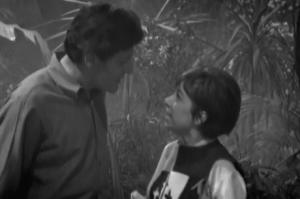 Broadcast: Sunday 15th April 2001
11:00pm PDT
(06:00 GMT)
<
>
«
»
KQED Plus
Featuring: William Hartnell, Jackie Lane, Peter Purves, Eric Elliott, Inigo Jackson
Arriving in the future on a spaceship carrying the remains of the Earth's population, the Doctor, Steven and Dodo are accused of bringing the plague when Dodo's cold turns deadly.
Synopsis Source: Doctor Who Guide
Broadcast Source: TWiDW
Report from the This Week in Doctor Who Archive:
Friday 13th April 2001:
KTEH 54 San Jose, CA
http://www.kteh.org/
Sun 11PM PDT The Ark movie (The Steel Sky, The Plague, The Return, The Bomb)
The biggest problem with traveling through time is the fact that if you succeeded, your interaction with other places and times could have unexpected consequences. In this, the last story under John Wiles' watch as producer, the Doctor, Steven, and Dodo inadvertently endanger humanity in the far future simply by meeting them. What could backward types from the 1stsegment of Time due to endanger people in the 57th segment. And can the situation be balanced in time to save them?