Last updated 02 January 2017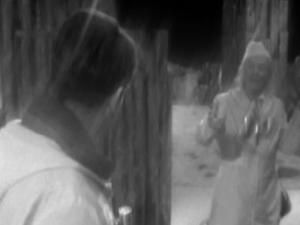 Broadcast: Sunday 18th March 2001
11:00pm PST
(07:00 GMT)
<
>
«
»
KQED Plus
Featuring: William Hartnell, Jacqueline Hill, Maureen O'Brien, William Russell
The TARDIS is pulled down to the barren world of Vortis. The Doctor and Ian explore. Barbara falls under an hypnotic influence and is compelled to leave the safety of the TARDIS.
Synopsis Source: Doctor Who Guide
Broadcast Source: TWiDW
Report from the This Week in Doctor Who Archive:
Friday 16th March 2001:
KTEH 54 San Jose, CA
http://www.kteh.org/
Sun 11PM PST The Web Planet movie (The Web Planet, The Zarbi, Escape To Danger, Crater Of Needles, Invasion, The Centre)
The TARDIS is dragged down to a world where ants and caterpillars are the main species, and a giant fungus grows destroying everything in its path.