Last updated 02 January 2017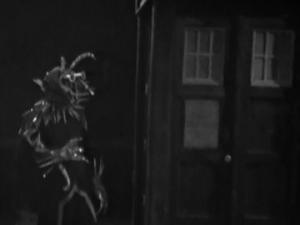 Broadcast: Sunday 4th March 2001
11:00pm PST
(07:00 GMT)
«
»
KQED Plus
Featuring: William Hartnell, Jacqueline Hill, Maureen O'Brien, William Russell, Sydney Wilson, Ray Barrett
Arriving on the planet Dido, the Doctor, Barbara and Ian discover a crashed spaceship from Earth and survivors. They are terrorised by the monstrous Koquillion who attacks Barbara.
Synopsis Source: Doctor Who Guide
Broadcast Source: TWiDW
Report from the This Week in Doctor Who Archive:
Friday 2nd March 2001:
KTEH 54 San Jose, CA
http://www.kteh.org/
Sun 11PM PST The Rescue both eps (The Powerful Enemy, Desperate Measures)
The TARDIS lands the crew on the planet Dido, a place the Doctor has been before. A world of peace-loving people, who allegedly massacred the crew of a space ship.