Last updated 02 January 2017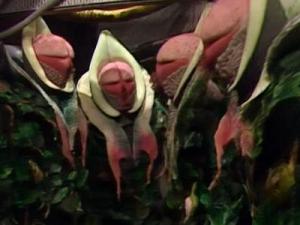 Broadcast: Sunday 1st October 2000
11:50pm-12:15am PDT
(06:50 GMT)
<
>
«
»
KQED Plus
Featuring: Colin Baker, Bonnie Langford, Lynda Bellingham, Honor Blackman, Michael Craig, Denys Hawthorne, Michael Jayston
The Commadore loses command of his ship as Bruchner takes over the bridge, intending to send the Hyperion III into the black hole of Tartarus to destroy the Vervoids forever.
Synopsis Source: Doctor Who Guide
Broadcast Source: TWiDW
Report from the This Week in Doctor Who Archive:
Friday 29th September 2000:
KTEH 54 San Jose, CA
http://www.kteh.org/
Sun 11PM PDT The Trial Of A Time Lord eps 9,10,11,+12 of 14 (Terror Of The Vervoids all 4 eps)
The 6th Doctor begins his defense case with an incident from his future. The Hyperion III is returning to Earth, with multiple sets of conspirators and murderers on board. But none of them are prepared for the real menace lurking in the shadows.