Last updated 02 January 2017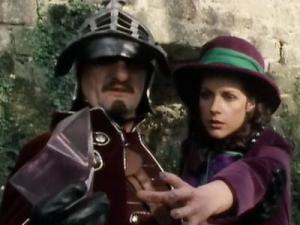 Broadcast: Saturday 9th June 2001
11:30pm-11:55pm CDT
(04:30 GMT)
<
>
«
»
TPT
Featuring: Tom Baker, John Leeson, Mary Tamm, Peter Jeffrey
The Doctor's search for the Key to Time continues when the tracer brings the TARDIS to the planet Tara. 
Romana quickly finds the fourth segment disguised as part of a statue but is then taken prisoner by Count Grendel of Gracht who has desires on the Taran throne and who is astounded to see she's the identical double of the Princess Strella,
Synopsis Source: Doctor Who Guide
Broadcast Source: TWiDW
Report from the This Week in Doctor Who Archive:
Friday 8th June 2001:
TPT St. Paul, MN
http://www.tpt.org/
analog KTCA 2, digital KTCI-DT 16 (2.5)
Sat 11:30PM, Sun 5:30AM CDT The Androids of Tara ep 1 of 4
The Doctor goes out in search of fish and finds a group of nobles trying to sneak a prince to a castle to be named King before an unworthy man takes his place. Unfortunately, none of them have any fish, so the Doctor's plans may be for nought.