Last updated 02 January 2017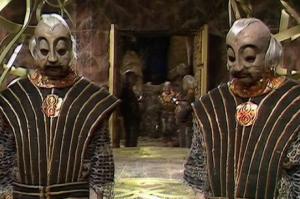 Broadcast: Saturday 20th May 2000
11:55pm-12:20am EDT
(03:55 GMT)
<
>
«
»
WCET
Featuring: Tom Baker, Ian Marter, Elisabeth Sladen, David Collings, Ronald Leigh-Hunt, Jeremy Wilkin
The Doctor, Sarah and Harry return to Nerva, but at an earlier point in time. The crew are dying and blame a space plague, but the Doctor suspects a survivor may be responsible.
Synopsis Source: Doctor Who Guide
Broadcast Source: TWiDW
Report from the This Week in Doctor Who Archive:
Friday 19th May 2000:
WCET 48 Cincinnati, OH
http://www.wcet.org/
Sat 11:30PM EDT Genesis of the Daleks ep 6 of 6
Davros faces a trial before the Kaled scientific core to decide if the Daleks will survive. The Doctor scrambles to destroy a tape that would enable the Daleks to take over the universe.
Sat 11:55PM EDT Revenge of the Cybermen ep 1 of 4
Back on Nerva Beacon, the Doctor, Sarah, and Harry wait for the TARDIS. While they're there, there is a strange space plague to solve.