Last updated 02 January 2017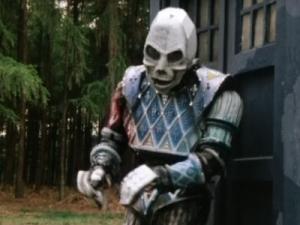 Broadcast: Friday 8th February 2002
12:30am-1:00am EST
(05:30 GMT)
<
>
«
»
NHPTV
Featuring: Peter Davison, Janet Fielding, Sarah Sutton, Matthew Waterhouse, Michael Melia, Michael Robbins
The Doctor discovers more Terileptil criminals in hiding in London. As he battles them, their soliton gas generator explodes, setting the city ablaze...
Synopsis Source: Doctor Who Guide
Broadcast Source: TWiDW
Report from the This Week in Doctor Who Archive:
Friday 1st February 2002:
NHPTV New Hampshire 11,49,52
http://www.nhptv.org/
Dish Network Boston Local 8781 - not yet offered
Late Sat Mid EST The Visitation eps 1+2 of 4
Late Thu Mid EST The Visitation eps 3+4 of 4
1664 England. The 5th Doctor, Tegan, Adric, Nyssa, and the Sonic Screwdriver find Black Death, ordinary death, space aliens, aggrivated locals, and a Highwayman. That's the trouble with visitations - whenever you have guests over, someone makes a mess.