Last updated 02 January 2017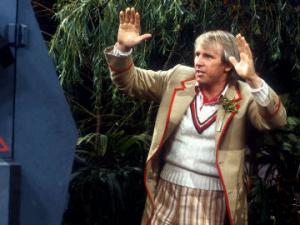 Broadcast: Friday 18th January 2002
12:00am-12:30am EST
(05:00 GMT)
<
>
«
»
NHPTV
Featuring: Peter Davison, Janet Fielding, Sarah Sutton, Matthew Waterhouse, Nerys Hughes, Simon Rouse, Richard Todd
While Nyssa rests, Adric and the Doctor discover a military expedition on Deva Loka. Tegan falls asleep in the forest watched by the Kinda, but they cannot stop her dreams.
Synopsis Source: Doctor Who Guide
Broadcast Source: TWiDW
Report from the This Week in Doctor Who Archive:
Friday 11th January 2002:
NHPTV New Hampshire 11,49,52
http://www.nhptv.org/
Dish Network Boston Local 8781 - not yet provided
Late Sat Mid EST Four To Doomsday eps 3+4 of 4
Bygon orders the death of Nyssa. Tegan does something insane. The 5th Doctor learns the secrets to the spaceship. Does that leave anything left for Adric to figure out?
Late Thu Mid EST Kinda eps 1+2 of 4
Once again - there will be basketball next Saturday. If you miss this Thursday airing, you won't see these episodes. The 5th Doctor, Tegan, and Adric arrive on a paradise planet which a snake wants to inhabit.