Last updated 02 January 2017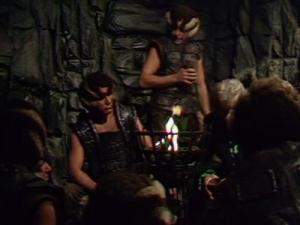 Broadcast: Sunday 2nd January 2000
3:32pm-4:02pm EST
(20:32 GMT)
<
>
«
»
NHPTV
Featuring: Jon Pertwee, Elisabeth Sladen, Frank Gatliff, Donald Gee, Rex Robinson, Nina Thomas, Ralph Watson
Chancellor Ortron accuses the Doctor and Sarah of being in league with the rebel miners and sentences them to be punished by Aggedor himself.
Synopsis Source: Doctor Who Guide
Broadcast Source: TWIDW
Report from the This Week in Doctor Who Archive:
Thursday 30th December 1999:
NHPTV New Hampshire 11, 49, 52
http://nhptv.org/
Sun 3:02PM EST (12:02PM SFMT) The Monster of Peladon eps 1+2 of 6
The Doctor returns to Peladon to meet some old friends, but gets caught up in a particularly nasty dispute between the aristocracy and the Pels. Any similarities to the WTO conference in Seattle and the liberal/conservative coalition of protesters there is entirely coincidental.