Last updated 02 January 2017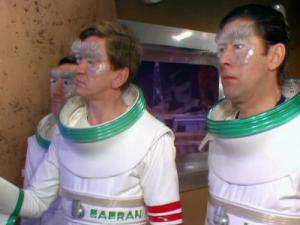 Broadcast: Saturday 3rd February 2001
7:00pm-7:30pm PST
(03:00 GMT)
<
>
«
»
KBTC
Featuring: Tom Baker, Louise Jameson, John Leeson, Michael Sheard
An alien virus infects the human crew of a refuelling station on Titan, one of the moons of Saturn. The Doctor is also infected and becomes possessed by the will of the Nucleus.
Synopsis Source: Doctor Who Guide
Broadcast Source: TWIDW
Report from the This Week in Doctor Who Archive:
Friday 2nd February 2001:
KBTC/KCKA/K65BU 28,15,65 Tacoma/Centralia/Gray's River, WA
http://www.kbtc.org/
Sat 7PM, Late Sat 12:30AM PST The Invisible Enemy eps 1+2 of 4
Viruses are a big pain. You mind your own business, going to and fro. You try to set up preventative measures to ensure that no viruses can get at you. But eventually, you loosen your guard. The virus slips in. It worms its way into you, looking for precisely the right place to cause damage. You suffer, and your presence begins to endanger others while the virus is in you. Viruses are a big pain.