Last updated 02 January 2017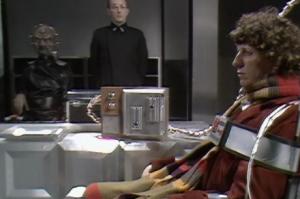 Broadcast: Saturday 24th June 2000
7:30pm-8:00pm PDT
(02:30 GMT)
<
>
«
»
KBTC
Featuring: Tom Baker, Ian Marter, Elisabeth Sladen, Peter Miles, Michael Wisher
When the Kaled dome is destroyed by the Thals' rocket, the war appears to be over and the Thals rejoice at their victory. But then, the Daleks appear and a massacre begins.
Synopsis Source: Doctor Who Guide
Broadcast Source: TWIDW
Report from the This Week in Doctor Who Archive:
Friday 23rd June 2000:
KBTC/KCKA/K65BU 28,15,65 Tacoma/Centralia/Gray's River, WA
http://www.kbtc.org/
Sat 7PM, Late Sat 12:30AM PDT Genesis of the Daleks pts 3+4 of 6
Possibly these two episodes should have been renamed "The Davros Show". Davros wins it all. Can anyone survive his treachery?