Last updated 02 January 2017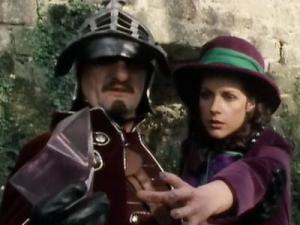 Broadcast: Saturday 24th June 2000
10:30pm MDT
(04:30 GMT)
<
«
New Mexico PBS
Featuring: Tom Baker, John Leeson, Mary Tamm, Peter Jeffrey
The Doctor's search for the Key to Time continues when the tracer brings the TARDIS to the planet Tara. 
Romana quickly finds the fourth segment disguised as part of a statue but is then taken prisoner by Count Grendel of Gracht who has desires on the Taran throne and who is astounded to see she's the identical double of the Princess Strella,
Synopsis Source: Doctor Who Guide
---
Broadcast notes:
This was the last episode to be broadcast on this channel in their regular run.
Broadcast Source: TWIDW
Report from the This Week in Doctor Who Archive:
Friday 23rd June 2000:
KNME 5 Albuquerque, NM
http://www.knmetv.org/
Sat 10:30PM MDT The Androids of Tara movie
Romana finds the 4th segment of the Key To Time, and finds herself in a realm that would impress the White Rabbit. Serfs using computers and nobles using swords. A wild and wacky story to break the tension of the Key saga.