Last updated 02 January 2017
Visit Broadcast Link
Broadcast: Saturday 8th November 2014
8:00pm-9:00pm GMT
«
»

«
»
(actually broadcast at 20:02:00)
BBC One
Featuring: Peter Capaldi, Samuel Anderson, Jenna Coleman, Chris Addison, Sanjeev Bhaskar, Michelle Gomez, Ingrid Oliver, Jemma Redgrave
Missy is still causing trouble and some of the Doctor's oldest foes are terrorising London.
Synopsis Source: Radio Times
Broadcast Source: BBC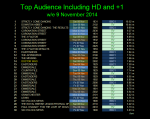 Ratings Information:
Initial figures:
5.445m viewers (overnight), 23.3% audience share (3rd place day, 23rd place week)
Consolidated figures:
7.600m viewers (+7 days), 28.6% audience share (14th place, BARB Week Top 30 Chart), AI 83
Additional figures:
7.846m viewers (+28 days)
Overnights: The rating, a 23.3% share of the total TV audience, made Doctor Who the third most watched programme of Saturday Night. Top was Strictly Come Dancing with 9.37 million watching, while The X Factor had 7.9 million viewers. Pointless Celebrities, which edged ahead of Doctor Who last week, had 4.9 million.
BARB Reports
BARB Live+VOSDAL: 5.445m; Timeshift+7: 7.600m total; Timeshift+28: 7.846m total
[first week breakdown: 5.445m(Sat); 6.879m(Sun); 7.161m(Mon); 7.331m(Tue)]
BBC Reports
BBC Live+Same Day: 5.34m; Repeat: 0.24m; Time-Shift: 2.13m; iPlayer: 1.10m; Live+7 Total: 8.81m
The Live+7 figure is calculated by the BBC to try to get an accurate estimate of the total unique audience for an episode of a programme. Unlike official BARB figures the Live+7 uses data to include those who watched one of the broadcast repeats of the episode and those who watched the episode on iPlayer all within 7 days of the original transmission.
Notes



List:



DRAMA Crikey! Danny is deceased, Clara is distraught, the Cybermen have invaded London and the Doctor is reeling at the news that Missy (Michelle Gomez) is actually his Time Lord nemesis. The cosmos may not yet be ready for a female Doctor (not that I'd have a problem with that), but kudos to Steven Moffat for delivering the next best thing: a gender reassignment for the Master. It's far from the most unlikely premise offered by this series.

The 12 episodes have hurtled past like a haywire Tardis. But what further shocks will this hour-long finale Death in Heaven deliver? And how will Peter Capaldi's Doctor, who despises soldiers, rub along with the Brigadier's daughter Kate (Jemma Redgrave) and her military cohorts at Unit? As the Doctor and Clara face their darkest hour, they need all the allies they can muster.

Credit: Radio Times, p71