Last updated 02 January 2017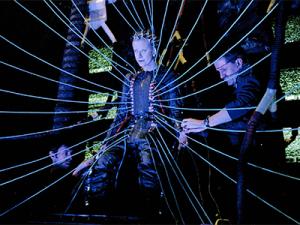 Broadcast: Friday 2nd November 2007
10:45pm CDT
(03:45 GMT)
<
>
«
»

<
>
«
»
Louisiana Public Broadcasting
Featuring:

John Humphrys

, John Barrowman, Charlie Bluett, Phil Collinson, Russell T Davies, Neill Gorton, Paterson Joseph, Simon Pegg, Billie Piper, Alan Ruscoe
This episode goes behind the scenes of Bad Wolf

Simon Pegg narrates a behind-the-scenes look of Doctor Who, following the production team, writers and cast as they bring the Time Lord back to the screen. A journey from his ultimate fans to his ultimate foe.
Synopsis Source: Doctor Who Guide
Broadcast Source: Louisiana Public Broadcasting
Report from the This Week in Doctor Who Archive:
Saturday 27th October 2007:
Louisiana Public Broadcasting
http://www.lpb.org
analog 13,18,24,24,25,27 digital .1
Shreveport DirecTV 24
Shreveport Dish 24,7021
Baton Rouge DirecTV 27
Baton Rouge Dish 27,8046
Lafayette DirecTV 24
Lafayette Dish 24,8488
Monroe Dish 13,7814
Friday 10PM CDT 1-12 Bad Wolf pt 1 of 2
Friday 10:45PM CDT DWC 1-12 The World of Who
9 November 10PM CST 1-13
The Parting of the Ways
pt 2 of 2
9 November 10:45PM CST DWC 1-13
The Last Battle
End of run. Replaced by Supernatural Science on 16 November.
Louisiana Public Broadcasting has the right to air Series 1 another 2
times before February 28, 2009.