Last updated 02 January 2017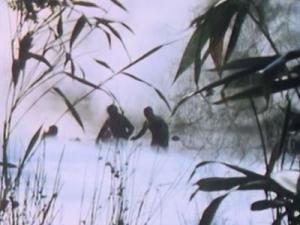 Broadcast: Sunday 8th December 2002
12:15am-1:45am EST
(05:15 GMT)
<
>
«
»
MPT Maryland
Featuring: Tom Baker, John Leeson, Lalla Ward, Matthew Waterhouse, George Baker, James Bree
The TARDIS enters the universe of E-Space and lands on the planet Alzarius where Mistfall is occurring and creatures are stirring in the swamp.
Synopsis Source: Doctor Who Guide
Broadcast Source: TWIDW
Report from the This Week in Doctor Who Archive:
Wednesday 4th December 2002:
MPT Maryland
http://www.mpt.org
analog 22,67,28,31,62,36
digital 42,(29),(62),(44),(28),(56) - simulcast of analog begins in 2003
DirecTV 22,980
Late Sat 12:15AM EST Full Circle movie
Time approximate after pledge special.
The 4th Doctor and Romana find their argument interrupted when the TARDIS is yanked into another universe. Before they can find their way back, they get involved with a troubled teen, a people with a mission to escape a cursed planet, and a surprising life cycle.