Last updated 02 January 2017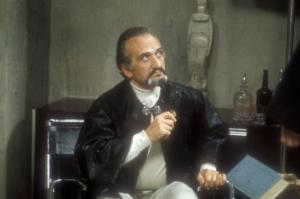 Broadcast: Sunday 23rd December 2001
12:00am-2:15am EST
(05:00 GMT)
<
>
«
»
MPT Maryland
Featuring: Jon Pertwee, Katy Manning, Roger Delgado, Clive Morton, Edwin Richfield
The Doctor and Jo visit the Master who is held prisoner on an island. There they learn that several ships have recently been sunk in the area and the Doctor decides to investigate.
Synopsis Source: Doctor Who Guide
Broadcast Source: TWIDW
Report from the This Week in Doctor Who Archive:
Friday 21st December 2001:
MPT Maryland
22,28,31,36,62,67
http://www.mpt.org/
DirecTV Local 980 effective 12/27/01
Dish Network Local TBA effective 1/1/02
Late Sat Mid EST The Sea Devils movie
The 3rd Doctor and Jo are distracted from their visit to check on the Master by the sinking of ships off the coast of the Master's island prison. A race of sea creatures has been awakened, and they want to take control of the Earth, wiping out humanity in the process. Unless the Doctor can talk them into a peaceful alternative. Special appearance by
The Clangers
in episode 1. It seems even the Master can be conned by television.