Last updated 02 January 2017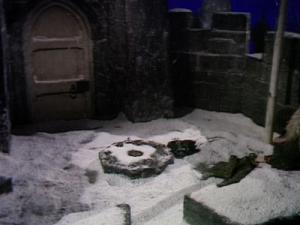 Broadcast: Saturday 29th January 2000
11:00pm-11:25pm EST
(04:00 GMT)
<
>
«
»
MiND
Featuring: Tom Baker, Mary Tamm, Iain Cuthbertson, Cyril Luckham
The Guardian of Time gives the Doctor a difficult task, and a new assistant. Together they must search for the six segments of the Key to Time, to prevent the Universe from being plunged into eternal chaos.
On their mission, the Doctor and Romana travel to the planet Ribos where the first segment of the key is protected by the monstrous Shrivenzale.
Synopsis Source: Doctor Who Guide
Broadcast Source: TWiDW
Report from the This Week in Doctor Who Archive:
Friday 28th January 2000:
WYBE 35 Philadelphia, PA
http://www.wybe.org/
http://www.tvquest.com/ zip 19128
Sat 11PM EST The Ribos Operation eps 1+2 of 4
The 4th Doctor's wanderings are interrupted by a man in white, who needs the Doctor to locate the six segments of a key that can control the entire nature of time. The first key is hidden on the planet Ribos, where a dangerous military commander is in the process of buying the planet for exploitation purposes in his latest war.