Last updated 02 January 2017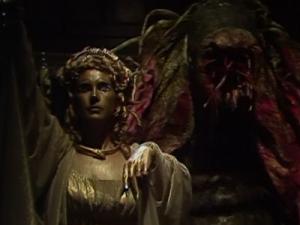 Broadcast: Saturday 4th December 1999
11:25pm-11:50pm EST
(04:25 GMT)
<
>
«
»
MiND
Featuring: Tom Baker, Louise Jameson, Wanda Ventham
Thea has become the Fendahl Core and Stahl realises that he is out of his depth as his followers transform into the hideous, snake-like Fendahleen.
Synopsis Source: Doctor Who Guide
Broadcast Source: TWiDW
Report from the This Week in Doctor Who Archive:
Friday 3rd December 1999:
WYBE 35 Philadelphia, PA
http://www.wybe.org/
http://www.tvquest.com/ zip 19129
Sat 11PM EST Image of the Fendahl eps 3+4 of 4
It seems that the Time Lords were the last race to tangle with the skull. It seems that they were not as successful as they thought. So naturally the Doctor, Leela, and a couple of humans think they can save Earth by themselves.