Last updated 02 January 2017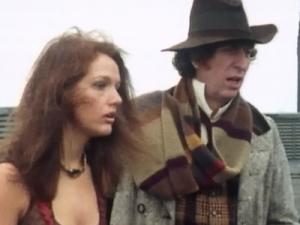 Broadcast: Saturday 11th December 1999
11:00pm-11:25pm EST
(04:00 GMT)
«
»
MiND
Featuring: Tom Baker, Louise Jameson, John Leeson, Michael Keating
The TARDIS arrives on Pluto which has been made habitable and turned into a giant factory where the ruthless Company exploits its under-paid workers.
Synopsis Source: Doctor Who Guide
Broadcast Source: TWiDW
Report from the This Week in Doctor Who Archive:
Friday 10th December 1999:
WYBE 35 Philadelphia, PA
http://www.wybe.org/
http://www.tvquest.com/ zip 19129
Sat 11PM EST The Sun Makers eps 1+2 of 4
Pluto - an austere but warm planet. Six suns leave the planet in constant daylight, and support the entire human population. The design - kind of like certain early
Blake's 7
episodes. Only one thing mars this paradise - it's virtual slavery. A mysterious combination corporation + welfare state government has taken the tax code to the logical extreme and is working humanity to death.
» the following week's edition reported that episode two was cut off part way through.