Last updated 02 January 2017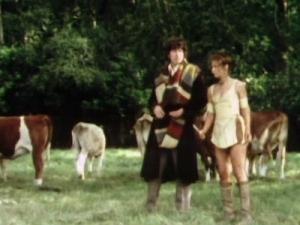 Broadcast: Saturday 27th November 1999
11:00pm-11:25pm EST
(04:00 GMT)
<
>
«
»
MiND
Featuring: Tom Baker, Louise Jameson, Denis Lill, Wanda Ventham
The Doctor and Leela arrive in present day England at Fetch Priory where a mysterious skull that is older than mankind exerts a deadly influence on those around it.
Synopsis Source: Doctor Who Guide
Broadcast Source: TWiDW
Report from the This Week in Doctor Who Archive:
Friday 26th November 1999:
WYBE 35 Philadelphia, PA
http://www.wybe.org/
http://www.tvquest.com/ zip 19129
Sat 11PM EST Image of the Fendahl eps 1+2 of 4
The Doctor and Leela make an emergency landing on Earth to try to find out who is running a certain kind of scanner that implodes and takes the planet it is on with it. The initial evidence is that the machine is being run by a group of cows. First someone points out that cows do more to harm the ozone layer then cars, and now this.