Last updated 02 January 2017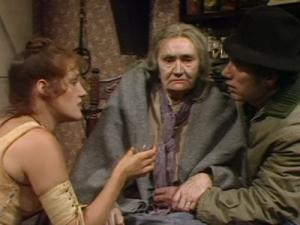 Broadcast: Saturday 27th November 1999
11:25pm-11:50pm EST
(04:25 GMT)
«
»
MiND
Featuring: Tom Baker, Louise Jameson, Denis Lill, Wanda Ventham
As Thea succumbs to the power of the skull, the Doctor realises that an ancient horror from the mythology of his own people is manifesting itself at Fetch Priory.
Synopsis Source: Doctor Who Guide
Broadcast Source: TWiDW
Report from the This Week in Doctor Who Archive:
Friday 26th November 1999:
WYBE 35 Philadelphia, PA
http://www.wybe.org/
http://www.tvquest.com/ zip 19129
Sat 11PM EST Image of the Fendahl eps 1+2 of 4
The Doctor and Leela make an emergency landing on Earth to try to find out who is running a certain kind of scanner that implodes and takes the planet it is on with it. The initial evidence is that the machine is being run by a group of cows. First someone points out that cows do more to harm the ozone layer then cars, and now this.