Last updated 03 May 2017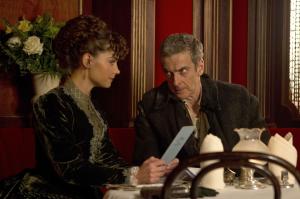 Broadcast: Saturday 23rd August 2014
8:15pm-10:00pm EDT
(00:15 GMT)
<
>
«
»

<
>
«
»
BBC America
Featuring: Peter Capaldi, Matt Smith, Jenna Coleman, Neve McIntosh, Dan Starkey, Catrin Stewart
Clara is alone in Victorian London with a man she doesn't know, a dinosaur in the Thames, and a spate of deadly spontaneous combustions. The Doctor has changed. It's time you knew him.
Synopsis Source: BBC America website schedule listing
Originally scheduled for 8:00pm, duration unknown but assumed to be two hours.
Broadcast Source: BBC America
Ratings Information:
Consolidated figures:
2.189m viewers (evening), 1st place - Nielsen - original cable shows by day, P18-49 %
The episode achieved a 2.189m Live+SD rating for the evening on cable, with a 0.85 Adult 18-49 Rating. [source: ShowBuzz Daily / TV By The Numbers]

Press Release:
New York – August 25, 2014 – The new era of Doctor Who begins with the highest rated season premiere ever on BBC AMERICA. The US embraced award winning actor Peter Capaldi's first full episode as the Doctor, delivering 2.58 million total viewers Live+SD Cume*. From 8:00-10:00pm, Doctor Who ranked as the #1 program in all of cable among total viewers and A25-54. BBC AMERICA was the #1 network and Doctor Who was the #1 show in all of television on Twitter and Tumblr for the day. Over 1 million total viewers Live+SD Cume* tuned in for BBC AMERICA's new eight part paranormal thriller, Intruders, which helped deliver BBC AMERICA its highest rated Saturday night ever.

In its 8:15pm premiere, Doctor Who:Deep Breath delivered 2.2 million total viewers and over 1 million A25-54, growing a significant 46% total viewers and +39% A25-54 from the season 7.2 premiere.

In its 11:00pm premiere, the Doctor Who post show, After Who Live, delivered 408,000 total viewers and 205, 000 A25-54. The special matched last October's premiere of AMC's Talking Dead in Twitter activity with nearly 45,000 tweets.

The episode also topped the General Sentiment's social TV chart for cable, with a 2nd Screen Score of 158448. [source: TV By The Numbers]