Last updated 02 January 2017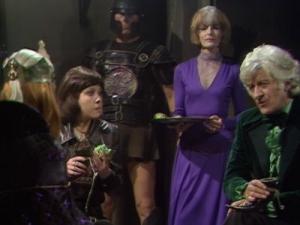 Broadcast: Sunday 3rd December 2000
8:00am-8:30am AEDT
(21:00 GMT)
<
>
«
»
BBC UKTV
(adverts during broadcast)
Featuring: Jon Pertwee, Elisabeth Sladen, Frank Gatliff, Donald Gee, Rex Robinson, Nina Thomas, Ralph Watson
Desperate to avoid a revolt from the miners,the Doctor attempts to expose the fraud of Aggedor's ghost. Alpha Centauri has summoned Federation troops, but whose side are they on?
Synopsis Source: Doctor Who Guide
Broadcast Source: TWIDW
Report from the This Week in Doctor Who Archive:
Friday 1st December 2000:
UKTV Australia
http://www.varos.com/drwho/uktv/
Sat 2PM, Late Sat 1AM AEDT Thirty Years In The TARDIS 1993 documentary
See WQED for story details.
Sun 7AM, Late Sun 1AM AEDT The Monster of Peladon all 6 eps
50 years after the Doctor's first visit to Peladon, the planet is again in turmoil. Membership in the Galactic Federation is not bringing all the success it was supposed to, and the miners are getting fed up.
Mon-Thu 11:30PM AEDT Planet of the Spiders eps 1 - 4 of 6
Fri 11:30PM AEDT Planet of the Spiders eps 5+6 of 6
The final 3rd Doctor story. 2 episodes on Friday. Disgraced U*N*I*T member Mike Yates contacts Sarah with an unbelievable tale of evil growing inside a Tibetan Monestary. The Doctor learns that something he brought to Earth in the past is causing death and terror now.