Last updated 02 January 2017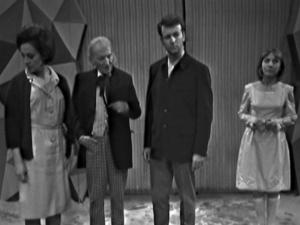 Broadcast: Thursday 23rd March 2000
11:30pm-12:00am AEDT
(12:30 GMT)
«
»
BBC UKTV
(adverts during broadcast)
Featuring: William Hartnell, Jacqueline Hill, Maureen O'Brien, William Russell, Peter Craze
Exploring a museum on the planet Xeros, the travellers discover they are invisible. The Doctor deduces that the TARDIS has jumped a time track and can see their own future.
Cliffhanger: having temporarily been frozen in time, the travellers discover their exhibits have vanished, and the Doctor realises that they have caught up with themselves in time ...
Synopsis Source: Doctor Who Guide
Broadcast Source: TWIDW
Report from the This Week in Doctor Who Archive:
Friday 17th March 2000:
UKTV
http://www.varos.com/drwho/uktv/
Sun 7AM+1AM AEDT The Rescue both eps (The Powerful Enemy, Desparate Measures)
Sun 8AM+2AM AEDT The Romans all 4 eps (The Slave-Traders, All Roads Lead To Rome, Conspiracy, Inferno)
Mon-Wed 11:30PM AEDT The Web Planet eps 4 - 6 of 6 (Crater Of Needles, Invasion, The Centre)
Thu-Fri 11:30PM AEDT The Space Museum eps 1 - 2 of 4 (The Space Museum, The Dimensions Of Time)
After being rescued from a crashed space ship in
The Rescue
, Vicki finds herself trying to do as
The Romans
do.  Then, the TARDIS crew must destroy the Animus in roder to escape
The Web Planet
and
The Space Museum
gives some even more interesting surprises.