Last updated 02 January 2017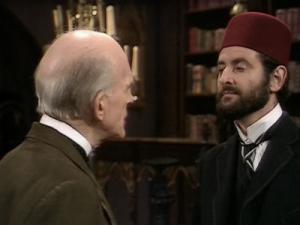 Broadcast: Friday 14th July 2000
5:00am-6:00am EDT
(09:00 GMT)
<
>
«
»
BBC America
(adverts during broadcast)
Featuring: Tom Baker, Elisabeth Sladen, Bernard Archard, Michael Sheard
The TARDIS lands in 1911. In the grounds of the Old Priory, Egyptian mummies are walking and the Doctor and Sarah find that an ancient and powerful evil is menacing mankind.
Synopsis Source: Doctor Who Guide
Broadcast Source: TWIDW
Report from the This Week in Doctor Who Archive:
Friday 7th July 2000:
BBC America
http://www.bbcamerica.com/
Weekdays 5AM EDT East Feed (PDT West Feed) - 2 episodes daily
Mon-Tue Terror of the Zygons eps 1 - 4 of 4
Recalled to Earth, the 4th Doctor, Sarah, and Harry investigate the sinking of oil rigs in Loch Ness. One of them will take a bullet.
Wed-Thu Planet of Evil eps 1 - 4 of 4
Note to TARDIS console: Admittedly, a military ship full of paranoids engaged in a rescue mission at the border of matter and anti-matter are somewhat similar to Parliamentarians. But Zeta Minor is *not* Central London! Shape up, or I'll try the other console room for a while. Sincerely, the Doctor.
Fri Pyramids of Mars eps 1 - 2 of 4
Note to TARDIS console: Right country, wrong decade. You sent me up against Sutekh, the Destroyer when I was trying to take a break and visit friends. The brown-panel console room looks more appetizing every day.