Last updated 02 January 2017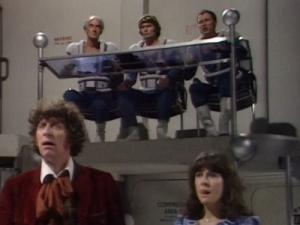 Broadcast: Thursday 13th July 2000
5:00am-6:00am EDT
(09:00 GMT)
<
>
«
»
BBC America
(adverts during broadcast)
Featuring: Tom Baker, Elisabeth Sladen, Prentis Hancock, Frederick Jaeger
Lost in the universe of antimatter, the Doctor communes with the creature and makes a bargain. Sarah discovers Professor Sorensen's dark secret which threatens to overwhelm him.
Synopsis Source: Doctor Who Guide
Broadcast Source: TWIDW
Report from the This Week in Doctor Who Archive:
Friday 7th July 2000:
BBC America
http://www.bbcamerica.com/
Weekdays 5AM EDT East Feed (PDT West Feed) - 2 episodes daily
Mon-Tue Terror of the Zygons eps 1 - 4 of 4
Recalled to Earth, the 4th Doctor, Sarah, and Harry investigate the sinking of oil rigs in Loch Ness. One of them will take a bullet.
Wed-Thu Planet of Evil eps 1 - 4 of 4
Note to TARDIS console: Admittedly, a military ship full of paranoids engaged in a rescue mission at the border of matter and anti-matter are somewhat similar to Parliamentarians. But Zeta Minor is *not* Central London! Shape up, or I'll try the other console room for a while. Sincerely, the Doctor.
Fri Pyramids of Mars eps 1 - 2 of 4
Note to TARDIS console: Right country, wrong decade. You sent me up against Sutekh, the Destroyer when I was trying to take a break and visit friends. The brown-panel console room looks more appetizing every day.